Traducción propia.
Gracias.
by
Posted in , , , , , , & on 1/18/2012 1:34:00 PM
Google emplea a más de 20,000 personas en todo el mundo y el número de ellas trabajando en Android llega al dígito único en porcentaje [se refiere a que es ente el 1% y el 9% de ese personal]. El negocio de Google son las búsquedas, pero siempre tiene aspiraciones de más. Android no es sólo una oportunidad para capitalizar las búsquedas móviles, es también una oportunidad de tomar el poder en la próxima era de computación personal. Si ustedes creen que los smartphones enventualmente reemplazarán a la computadora principal, quién no querría ser para los Smartphones lo que fue Microsoft para las PC al principio de los 90s?
Versiones anteriores de Android fueron cautos y evolucionados escalones a lo largo del camino para llegar a ser una alternativa más abierta y flexible que iOS. Empezando con Honeycomb (Android 3.0), sin embargo, Google comenzó a salir de la sombra de sus competidores y a realmente empezar a definir a Android como una plataforma para computación móvil. Honeycomb estaba limitado a tablets, pero su sucesor, Ice Cream Sandwich (Android 4.0), traerá la unificación de Android a través de las tablets y smartphones.
Hoy veremos a ICS y su vehículo de lanzamiento, el Google's Galaxy Nexus.
El debate de Android vs. iOS
Está muy claro para mí ahora más que nunca que Apple y Google tienen metas completamente diferentes con sus estrategias respecto de los sistemas operativos móviles. Excluyendo la poco clara estrategia detrás de Chrome OS, Android es mucho más el sistema operativo primario de Google. La estrategia unificada tablet/smartphone detrás de Ice Cream Sandwich tiene sentido porque para que pueda Google tener éxito en el negocio de los Sistemas Operativos necesita desplegar Android en todo, desde smartphones a notebooks. Ya hemos visto las fortalezas de tener una plataforma de smartphone con un fuerte ecosistema. Las cosas se vuelven mucho más atractivas si tienes un teléfono, tablet y PC que corran el mismo SO y aplicaciones. En tanto Android es el sistema operativo de Google "un mismo talle para todos" [o de talle único], necesita tener un foco más amplio y un poco más ambicioso que iOS o de otro modo se arriesga a perder la carrera en el largo plazo.
Apple está en diferente posición. Ya tiene un exitoso SO para desktop/notebook que continúa creciendo. Mientras iOS ha sido un éxito fuera de control ("runaway succes") para Apple, la plataforma de Mac OS X es una opción sólida para cualquier usuario que necesita más poder que el que su iPhone o iPad puede darle. Los dos Sistemas Operativos pueden converger o al menos hacerse fuertes préstamos entre ellos, pero en el interin pueden mantenerse independientes. Si usted necesita más una experiencia de computdora, Apple está feliz en venderle una Mac. Si usted necesita experimentar algo más funcional y móvil, Apple tiene toda una serie de configuraciones de iPhone/iPad para ofrecerle.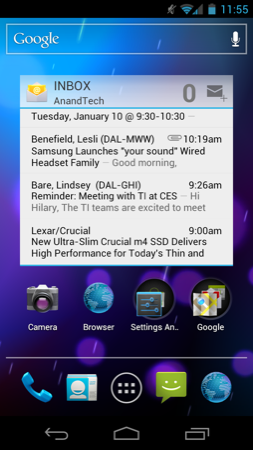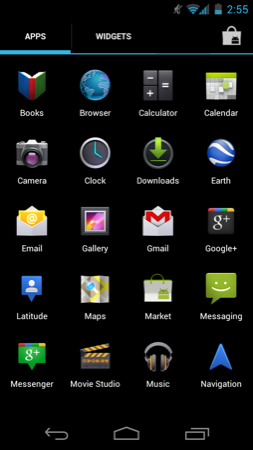 ICS no es un paso hacia iOS. Si algo prueba es que Google está comprometido con su propia trayectoria. Android es un SO que, aunque mucho más cerrado que lo que unos cuantos querrían, todavía es mucho más flexible que iOS. Puedes cargar aplicaciones no compradas en el Market. El sistema operativo no está completamente escondido de ti. Puedes elegir el nivel de zoom predeterminado que quieras en páginas web. Apple y Google tienen ambos toneladas de tiempo y búsqueda en descubrir la mejor manera de hacer algo. Y, para ser honesto, siento que Apple generalmente hace un mejor trabajo en conseguirlo para el consumidor masivo. En lugar de intentar hacer molde perfecto sin embargo, Google te da una forma que es más flexible
.
He dicho esto antes, pero creo que Apple está tratando de entregar una experiencia en el aparato, mientras que Google está proveyéndote con una forma moderna de experiencia computacional tradicional. Si el aparato es un smartphone, entonces ambos acercamientos son igualmente capaces, sólo es una cuestión de preferencias personales.
Lo que es nuevo realmente en ICS está dentro de estas categorías:
Improvements in UI frame rate due to OpenGL ES rendering (non-skia) path
UI tweaks
New features
Ahora en esta lista hay un cambio fundamental en la forma en que trabaja Android. Siento que es un punto muy importante de entender y la causa de desacuerdos en cuán impresionante es (o no) Ice Cream Sandwich.
ICS es más fluido, más pulido y tiene su propio set de nuevas agregados que lo hacen un paso adelante muy importante para Android. Lo que ICS no es, sin embargo, es un clon de iOS. Si prefieres la experiencia de iOS a la de Android, ICS no va a hacer nada para hacerte cambiar de opinión. Si todo lo que entendías que faltaba a Android era una más pulida Interfaz de Usuario (IU o UI en inglés), entonces su cuarta entrega será casi todo lo que puedas pedir.
OS-Wide OpenGL ES Rendering
Aunque smartphones y tablets todavía estén atrás de la tecnología que tenemos en las PCs modernas por unos cuantos años, su evolución es una versión sumamente acelerada de lo que vimos en la industria de la PC. Llevó décadas ir de las primeras interfaces gráficas a la GPU (unidad de procesamiento gráfico, como el CPU pero dedicado a gráficos) y a las aceleradas interfaces que tenemos hoy en día en el escritorio hoy en día. Android hizo una transición muy similar en tan sólo tres años.
Previo a Honeycomb, la mayoría del dibujo en pantalla en Android se hacía usando bibliotecas . Estas bilbiotecas eras casi exclusivamente basadas en CPU y trabajaban muy poco en el GPU. Con el tiempo, Google reescribió elementos clave de Android para usar nuevos caminos con renderización OpenGL ES en lugar de skia para dibujo en pantalla. Vimos la primer mayor trancisión en Gingerbred, donde partes del OS se volvieron acelerados por GPU, pero cosas como el navegador seguían siendo renderizados usando skia. Honeycomb fue un significativo paso hacia el dibujo en pantalla a través de GPU y ICS lo que hace es completar dicha transición. El otro componente es el modelo de graficación, que está completamente actualizado en Android 3.x y superiores.
From Romain Guy's
Android Accelerated Rendering
Google I/O 2011
Las tablets basadas en Honeycomb fueron mucho más fluidas que los dispositivos basados en Gingerbread pero hasta ellas mostraban algunos problemas con el desempeño de la IU dependiendo qué se les pidiera. Más tarde descubrimos que era una limitación de Tegra 2, algo que contribuyó seguramente a que NVIDIA no fuera elegida como el SoC líder socio para ICS.
Also from Romain Guy's Android Accelerated Rendering Google I/O 2011
Con Ice Cream Sandwich, el OS, navegador y las apps de primer nivel son acelerados por OpenGL ES. El resultado es absolutamente perceptible. El inicio de las Apps, scrolling y las transiciones de las ventanas son mucho más fluidos. La navegación en internet es increiblemente suave y fácilmente comparable con iOS y los Windows Phone en este punto.
Las apps de terceros tienen que optimizarse para la renderización OpenGL ES, por lo cual requerirán de una actualización para aquellas apps que no lo hayan hecho todavía.. Google también provee la opción manual de forzar todas las apps para usar aceleración por GPU e ignorar el opt-in (hardwareAccelerated="true" from the AndroidManifest.xml file). La desventaja obvia es que no todas las apps de terceros podrán graciosamente trabajar con la aceleración por hard activada, aunque lo hagan ahora. La app de Southwest Airlines, por ejemplo, dejará de funcionar en cuanto trates de ver un vuelo si lo fuerzas a usar aceleración por GPU, y Speedtest.net muestra una mancha o aspecto borroso (blur) en su línea gráfica durante el test. Google ha bosquejado las operaciones de dibujo que no están soportadas por Android 3.x 4.x ya, las que agradecidamente no son muchas.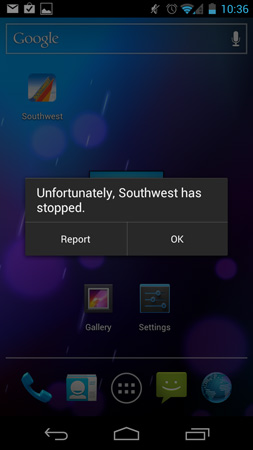 Mientras sería bueno para Google permitir aceleración GPU en configuración por aplicación, la verdad de la cuestión es que muchas de ellas funcionan simplemente bien. Aquellas que no, están a una simple actualización de subir abordo, de otra manera corren el riesgo de quedar obsoletas en cuanto más plataformas tengan ICS en el futuro.
Si una Interfaz Gráfica perezosa te mantenía alejado de Android en el pasado, ICS casi completamente se hace cargo del asunto. Digo "casi completamente" porque todavía hay cosas menores y un par de problemitas con la respuesta del SO.
Task Switcher with CPU use overlay (new in ICS) enabled
El mayor problema para mi es la demora cuando se opera cualquiera de los botones de ICS: retroceder, principal y el cambiador de tareas. Mientras que tocando una carpeta en cualquiera de las pantallas principales resulta en una instantánea muestra de su contenido, tocar cualquiera de los tres botones de ICS no tiene la misma respuesta. Hay una demora perceptible entre tocarlo y cuando responde. Es una demora que, al menos en mi opinión, es demasiado larga. Más frustrante es la demora en traer la lista de aplicaciones usadas recientemente. Es menos de dos segundos, pero debería ser de milisengundos.
Yo montiree el uso de CPU mientras mientras llamba al adminstrador de tareas y vi una pequeña variación en el uso de la CPU (~15%) y un incremento asociado en la frecuencia del reloj, pero nada suficientemente significante para hacerme creer que hay problemas con el CPU en este aspecto. Si algo me pregunto es si se trata ed una limitación en el desempeño del GPU similar a lo que pasaba con Tegra 2 y el launcher de Honeycomb. Dada la increíble resolución del display del Galaxy Nexus y el hecho de que aún estamos lidiando con un 307MHz PowerVR SGX 540, es posible que la plataforma sólo necesite un GPU más rápido. Estoy curioso por ver cómo lo hará aquí un Tegra 3.
La UI: Holo Evolucionado
La primera vez que me encontré con Holo, el theme de Google para Honeycomb, no estaba muy convencido de que fuera algo que duraría. Era diferente, lo que hacía ganar puntos a Google, pero no era exactamente confortable. Me sorprendió ver una evolución de Holo usada en ICS, pero el theme ha crecido en mí.
Ice Cream Sandwich se siente un motón como un encuentro entre Android y Windows Phone. Parte de ello seguramente tiene que ver con la naturaleza contrastante del theme, pero es también la elección de la fuente (Android 4.0 reemplaza Droid Sans con Roboto) y bordes duros a lo largo de la UI. Holo es todavía distintivamente Android en tanto hay múltiples pantallas principales con soporte de widgets, pero también es diferente. Ice Cream Sandwich es Android madurando, es la segunda implementación de Holo permitiéndonos finalmente ver hacia dónde va la trayectoria de Google en el corto plazo. Es diferente, tal como mencionaba antes. Holo y ICS no son iOS y no parece que lo vayan a ser nunca. La UI te hará estar a favor o en contra. A mi me gusta. Es diferente, es claramente un juego en todo el theme de Android; es el tipo de UI que no esperarías de un OS llamado como un robot
.


Droid Sans v. Roboto (ICS)
Al mismo tiempo, no es más torpe. Elementos del diseño y muchas de las apps de sistema son limpias. Es realmente un ciudadano de primera clase. Diferente tanto de iOS como de Windows Phone, pero con un diseño que es creíble.
El corazón de Android permanece intacto. Tienes múltiples pantallas prinicipales (5 por definición) que puedes poblar de atajos, widgets o carpetas. Los widgets son ajustables en tamaño, tal como ocurría con Honeycomb. Los atajos funcionan de la misma manera que siempre, mientras que las carpetas tuvieron una agradable actualización en ICS. Arrastra cualquier icono sobre otro y creará una carpeta. Las carpetas son rápidas de abrir y fácil de renombrar, sólo toca en el nombre de cualquier carpeta abierta y escribe el nuevo.
El launcher tuvo unos retoques. En lugar de un scroll cúbico sin fin, tienes páginas de apps que puedes navegar. Una vez que llegas al final de las páginas de apps comienzas a navegar entre los widgets. Todo esto es mucho más fluido que nunca antes con Android.
Gingerbread vs. Ice Cream Sandwich Gingerbread Ice Cream Sandwich Lock Home Launcher
El nuevo botón de menú contextual
Juega un rato con ICS y pronto te encontrarás con un nuevo elemento de la IU que parece inspirado por Windows Phone: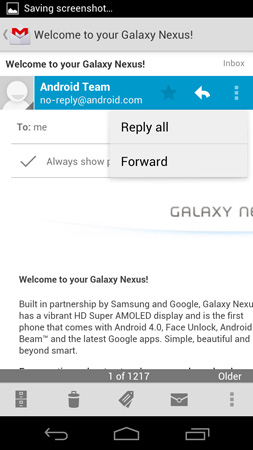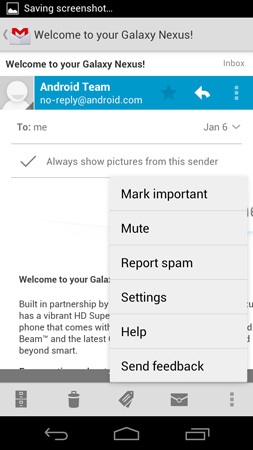 Estas elipsis verticalmente orientadas aparecerán al principio o al final de cualquier app y revelarán un menú adicional de opciones.
En Gingerbread tenías el botón Menú de Android, pero como éste desaparece de ICS debes confiar en estos botones de menú contextuales para traerte acciones adicionales. Estoy honestamente agradecido con el cambio porque muy a menudo me olvidaba si había otras opciones adicionales en Gingerbred con el botón Menú. ICS lo hace muy obvio cuando hay más que puedes hacer.
El cambiador de tareas
La piedra angular de un buen SO es un buen administrador de tareas. Todavía creo que webOS trabaja con el concepto de apps individuales y su intercambio mejor que cualquier otro SO móvil, pero parece que dicha plataforma está casi muerta con pocas chances de lograr acercarse al top tres de los SO móviles
.
Google e iOS no se han enfocado tradicionalmente en la administración de tareas, aunque sí han provisto soporte a ello. En Gingerbread, cambiabas de apps manteniendo apretado el botón principal, que traía una lista de hasta ocho de las más usadas apps.. Ice Cream Sandwich implementa un menú para cambiar al estilo de app borrador, primero introducido en Honeycomb, activado por tocar el botón dedicado:
Gingerbread vs. Ice Cream Sandwich Gingerbread Ice Cream Sandwich Task Switcher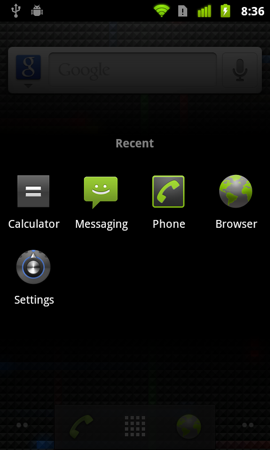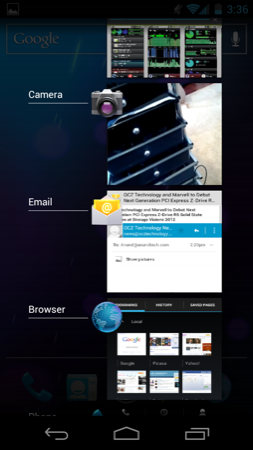 El método de Gingerbread de cambiar de apps podías ser más rápido, pero definitivamente no es tan útil como lo que ofrece ICS. Para empezar, con ICS puedes hacer más que cambiar por seis apps. Las más recientes apps están localizadas en la parte baja de la lista, las más viejas en la parte más alta. Puedes eliminarlas corriéndolas a la izquierda o derecha. Haciendo esto, inmediatamente libera memoria que la app estuviera usando, incluso si estaba suspendida.
Scrolling a través de la lista de aplicaciones recientes, como el scrolling en cualquier lado de ICS, es extremadamente fluido. La única queja real que tengo es que el administrador de tareas tarda mucho en iniciarse al principio. Como aludí antes, esto es algo que puede mejorar con un SoC más rápido, particularmente con un más rápido GPU.
La barra de notificaciones
Las notificaciones en ICS siguen siendo manejadas vía la status bar del extremo superior de la pantalla y tirando de ella hacia abajo. La pantalla que se despliega es parcialmentre transparente por definición y, una vez más, muy fluida su animación. La identificación de la operadora está incluida en la parte baja, en lugar de la parte alta de la barra. Se pueden borrar las notificaciones de manera individual o todas con la X.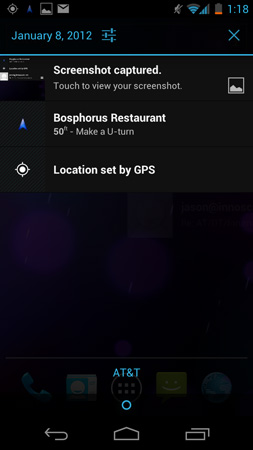 Estoy sorprendido que Google no haya tomado prestado el panel de configuración rápida que sus socios usan en la barra de notificaciones, pero hay un atajo a la configuración general en la parte de arriba.
Screenshots
Android 4.x finalmente traer la opción de tomar capturas de pantalla desde el mismo SO. Ya no hay necesidad de los socios para hacer retoques que lo hagan funcional y con una combinación de teclas, no necesidad de conección USB y disparar ddms, y no más necesidad de ser root e instalar alguna aplicación para hacerlo funcionar. Tradicionalmente, aquellas tres vías eran las únicas para tener capturas de pantalla en Android.
Hacer una captura de pantalla en Android 4.x, es fácil, simplemente mantén apretado bajar volumen y el botón de encendido/bloqueo al mismo tiempo. Se muestra una animación, obtienes una notificación, y la captura de pantalla es guardada (en formato .png) en /pictures/screenshots como se muestra arriba.
No puedo dejar de remarcar lo importante que es la posibilidad de hacer capturas de pantalla para cualquier plataforma en general. Sin ellas, los usuarios sólo pueden compartir lo que ven en su smartphone con otros cuando están en contacto directo con alguien más. La posibilidad de tomar capturas de pantalla sin todos esos procedimientos sin sentido que describí más arriba es parte de la explicación de por qué iOS está tan presente en línea. Naveguen Reddit y cuenten cuántas capturas de pantalla de conversaciones de SMS están hechas con iOS y cuántas con Android. Es claro para mí que Matias Duarte lo entendió, desde que webOS e incluso the Danger Hiptop desde el día 1 tuvieron esta opción de capturas de pantalla. Ahora finalmente Android 4.x se une a la cofradía.
El teclado
El teclado original de Gingerbread fue significativamente un paso adelante, pero el de ICS es realmente bueno. No sé si hay mucho realmente que cambie con el teclado de ICS, pero está en el punto de que -cuando no hay Swype para aquellos usuarios que les importa- me sentiría desilusionado de ver teclados de terceros por parte de HTC, Motorola or Samsung.
La capa principal no ha sido cambiada desde Gingerbread, aunque hay un par de cambios sustanciales. Obtienes el estandar teclado de cuatro filas con modos alternativos (números y símbolos). Donde los teclados de Gingerbread e ICS difieren de los estándar de iOS o Windows Phonees en que tienen una quinta fila de teclas de puntuación por default sobre el resto de los teclados. Esta quinta (o primera, dependiendo de dónde la mires) cambia constantemente en una lista de palabras predichas. La palabra en el centro es la que el motor de autocorrección cree que estás tipeando, mientras que las palabras de la izquierda o de la derecha son las alternativas. Mientras que Gingerbread te permitía navegarlas horizontalmente en la fila, ellas están fijas en ICS. Como consuelo, puedes traer sugerencias adicionales de autocorrección manteniendo apretada la fila de autocorrección. Los caracteres acentuados están disponibles presionando y manteniendo las letras que quieres acentuadas. Los menúes también existen para puntuación y para las caritas.
AL mantener apretada una tecla, es acompañada con el aumento del tamaño de dicha letra. A diferencia de Gingerbread, donde la letra aumentada no tenía una conección con la letra apretada, en ICS sí, lo que hace parece un teclado menos caótico cuando escibes muy rápidamente. En lugar de dar la impresión de una ensalada de letras volando por todos lados, la animación tiene más sentido, dejándote saber qué fue lo que apretaste recién.
También hay un menú adicional escondido con diferentes themes para aplicar al teclado elegido.
Gingerbread vs. Ice Cream Sandwich - Keyboard & Autocorrect Gingerbread Ice Cream Sandwich Keyboard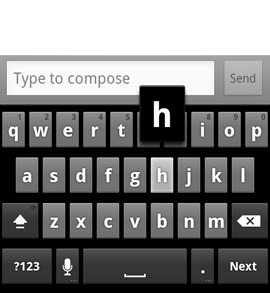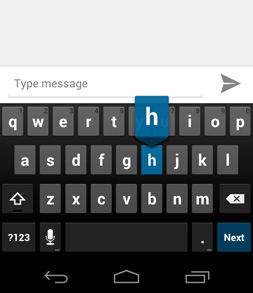 Quick Punctuation Autocorrect Autocorrect
Reconocimiento facial
Android ha ofrecido históricamente múltiples opciones de seguridad para tu teléfono o tablet. ICS continúa con esa tendencia. Puedes elegir un PIN básico con un mínimo de 4 números y un máximo de 17. También hay una opción alfanumérica, simplemente deslizando el dedo y sin seguridad alguna. ICS agrega una nueva a la lista, el reconocimiento facial.
La cuestión es tal y como suena. ICS puede guardar una foto de tu cara y usarla para desbloquear el dispositivo. Mientras que sólo necesitas una sola foto para empezar, Google recomienda que saques múltiples fotos en diferentes condiciones de luz, con y sin anteojos y con una cara limpia y otra sin afeitar (si es el caso). Como resguardo, debes proveer a ICS con un PIN en caso de no reconocimiento de tu cara (tanto por cuestiones de luz o que te hayas caído recientemente de la escalera).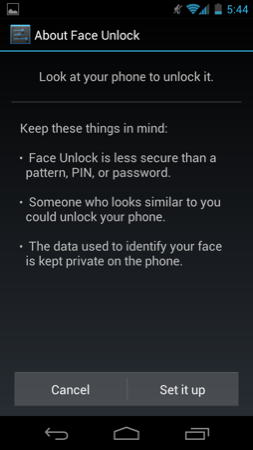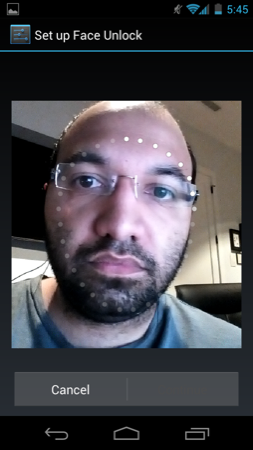 Google advierte que alguien que es parecido a ti puede desbloquear tu dispositivo, haciendo el desbloqueo por reconocimiento facial menos seguro que un PIN largo, dibujo o password. Sin perjuicio de admitir que un ladrón debe adivinar o saber cómo eres para el desbloqueo, pero es un punto válido.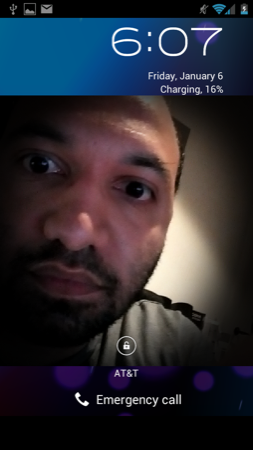 Esta función actualmente funciona sorprendentemente bien en la práctica. Con el desbloqueo por reconocimiento facial activado, la pantalla de desbloqueo tiene una ventana en la que debes centrar tu cara. Con excepción de saturaciones de luz (con la luz dando en la cámara) o escenarios realmente malos, el Face Unlock me funcionó casi todo el tiempo. Cuando funciona para el desbloqueo, es extremadamente rápido. En las condiciones adecuadas, he visto a ICS desbloquearse un segundo después de haber visto mi cara en la pantalla. En promedio el proceso es más lento que tipear un PIN o usar otro método de desbloqueo. Para más datos, si lo usas a la noche, especialmente en autos, te conviene ir directamente al desbloquero por PIN/password/dibujo. Finalmente, no trates de usar el Face Unlock para desbloquear tu teléfono mientras manejas, es una mala receta para mal, o peor.
PARTE TRADUCIDA
***********************************************************************************************************************************************
PARTE NO TRADUCIDA AúN...Y FALTA MUCHO MáS DE LA MITAD. The Browser
The improvements to the Android web browser are some of the most noticeable in Ice Cream Sandwich. Browser performance both in JavaScript rendering and web page scrolling is worlds better than in Gingerbread. We've already explained why scrolling is smoother (full OpenGL ES render path), while the js performance improvements come courtesy of a newer V8 rendering engine in ICS.
The browser in 4.x also includes essentially everything that made the browser in 3.x smooth as well. As opposed to the Android 2.x browser's immediate rendering system - which would redraw the page in its entirety as you zoomed and panned around and seem choppy as a result - Android 3.x/4.x now render tiles into a backing store for webpages. This is the same system that iOS, webOS, and Samsung's custom browsers use, and as a result panning and translating around is now just as smooth as it is in those platforms. To be totally honest, this is probably one of the single largest and most welcome improvements over Android 2.x because of how dramatic the difference is.
Android 4.0 browser with visual indicator enabled (left), debug settings (right)
In Android 4.0 you can actually go inside the debug settings for the browser (enter about:debug into the address bar, enter, then a new settings pane emerges) and enable or disable OpenGL assisted rendering for the browser. With it off, it feels just like 2.x's choppy stock browser, and with it on, it feels buttery smooth like 3.x. The difference is beyond dramatic. This is actually a feature that was present in Android 3.x as well.
A look at SunSpider and Browsermark performance tells us all we need to know about how the JavaScript V8 engine performance has changed under ICS: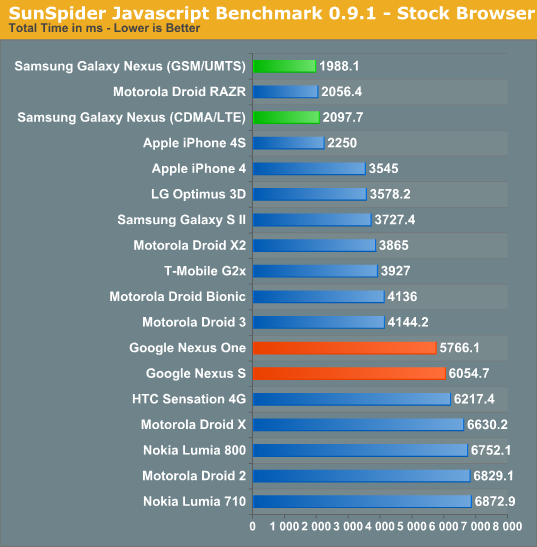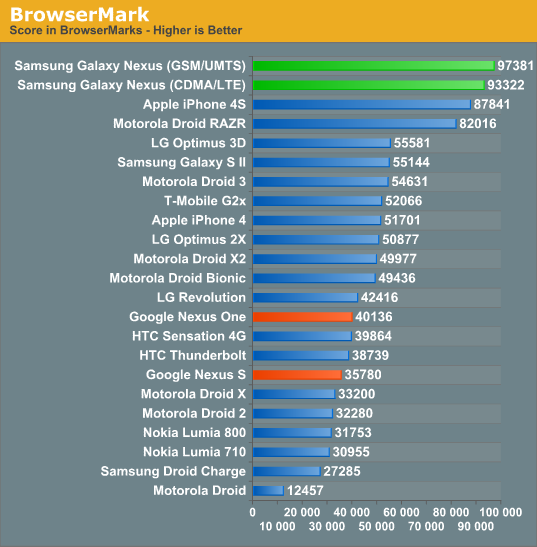 While companies like Motorola and Samsung backported parts of the Honeycomb browser to their own Gingerbread browsers, the stock Gingerbread browser needed work. ICS modernizes the Android web browser and finally removes the need for third party customizations, at least from a performance standpoint. Gingerbread vs. Ice Cream Sandwich Gingerbread Ice Cream Sandwich Browser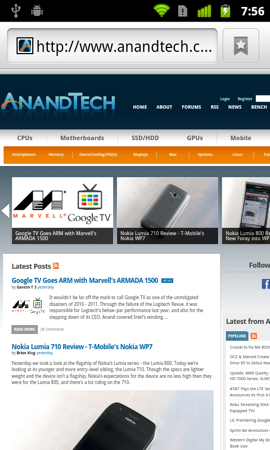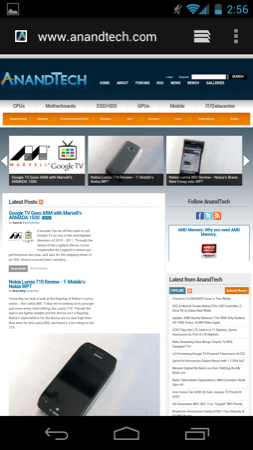 The ICS browser is still WebKit based and uses a much newer version of WebKit than what you'll find in Android 2.3.6. Compared to the latest Honeycomb browser however there's not all that much difference in version number. The ICS browser does still use an older version of WebKit than Mobile Safari in iOS 5.0.1: User Agent String Comparison Device OS WebKit Version UA String Apple iPhone 4S iOS 5.0.1 534.46 Mozilla/5.0 (iPhone; CPU iPhone OS 5_0_1 like Mac OS X) AppleWebKit/534.46 (KHTML, like Gecko) Version/5.1 Mobile/9A405 Safari/7534.48.3 Samsung Galaxy Nexus Android 4.0.2 534.30
Mozilla/5.0 (Linux; U; Android 4.0.2; en-us; Galaxy Nexus Build/ICL53F) AppleWebKit/534.30 (KHTML, like Gecko) Version/4.0 Mobile Safari/534.30 ASUS TF Prime Android 3.2.1 534.13
Mozilla/5.0 (Linux; U; Android 3.2.1; en-us; Transformer Prime TF201 Build HTK75) AppleWebKit/534.13 (KHTML, like Gecko) Version/4.0 Safari/534.13 Google Nexus One Android 2.3.6 533.1 Mozilla/5.0 (Linux; U; Android 2.3.6; en-us; Nexus One Build/GRK39F) AppleWebKit/533.1 (KHTML, like Gecko) Version/4.0 Mobile Safari/533.1
HTML5 compatibility is fairly similar to Honeycomb, although a significant improvement compared to Gingerbread. If you haven't had any experience with Honeycomb tablets, the ICS browser will feel like like brand new technology. The HTML5 Test Test Apple iPhone 4S Samsung Galaxy Nexus Google Nexus One ASUS Eee Pad Transformer ASUS Eee Pad Transformer Prime OS iOS 5.0.1 Android 4.0.2 Android 2.3.6 Android 3.2.1 Android 3.2.1 WebKit Version 534.46 534.30 533.1 534.13 534.13 Total Score
305 (and 9 bonus points)
256 (and 3 bonus points) 182 (and 1 bonus point) 222 (and 3 bonus points) 233 (and 3 bonus points) Parsing rules
11 (2 bonus points)
11 (2 bonus points)
1/11
11 (2 bonus points)
11 (2 bonus points)
Canvas 20 20 20 20 20 Video
21/31 (4 bonus points)
21/31 21/31 21/31 21/31 Audio
20 (3 bonus points)
20 (1 bonus point) 20 (1 bonus point) 20 (1 bonus point) 20 (1 bonus point) Elements 22/29
23/29
13/29 20/29 20/29 Forms
77/100
57/100 33/100 54/100 54/100 User Interaction
17/36
17/36
0/36
0/36
0/36 History and navigation
5
5
5
0/5 0/5 Microdata 0/15 0/15 0/15 0/15 0/15 Web applications 15/20 15/20
19/20
15/20 15/20 Security 5/10 5/10 5/10 5/10 5/10 Geolocation 15 15 15 15 15 WebGL
9/25
9/25
0/25 0/25
9/25
Communication
32/36
12/36 9/36 10/36 12/36 Files 0/20 10/20 0/20 10/20 10/20 Storage 15/20 15/20 15/20 15/20 15/20 Workers
15
0/15 0/15 0/15 0/15 Local multimedia 0/20 0/20 0/20 0/20 0/20 Notifications 0/10 0/10 0/10 0/10 0/10 Other 6/8 6/8 6/8 6/8 6/8
Performance and compatibility are obvious improvements, however there's much more to the ICS browser. For starters it implements tabbed browsing, a feature that has been available on Honeycomb but not in Gingerbread. Given the small screen size, tabs aren't immediately visible but are instead switched between after hitting the tabs button. The process makes sense and thanks to GPU accelerated drawing, scrolling through tabs is extremely smooth.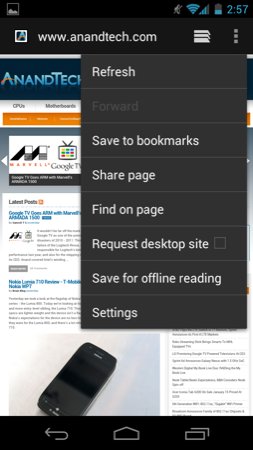 The normal desktop UA switcher (left), More options under developer settings (right)Google added quick user agent switching to ask for desktop versions of websites vs. mobile by default through a checkbox under settings. Enabling the option changes the browser's UA string from representing itself as a mobile Safari browser to Chrome 11.

There's also a menu inside debug settings to change your user agent (UAString) to look like the desktop, iPhone, iPad, Nexus One with Froyo, or a Xoom with Honeycomb.

User Agent String Comparison Device UA String Default

Mozilla/5.0 (Linux; U; Android 4.0.2; en-us; Galaxy Nexus Build/ICL53F) AppleWebKit/534.30 (KHTML, like Gecko) Version/4.0 Mobile Safari/534.30 Desktop

Mozilla/5.0 (X11; Linux x86_64) AppleWebKit 534.24 (KHTML, like Gecko) Chrome/11.0.696.34 Safari/534.24

Prior to ICS, the browser was a serious limitation of the Android platform on smartphones - it was choppy, and something OEMs continually replaced with their own (sometimes worse, sometimes better) browser. Granted you could always download and replace the browser with one of your own choosing, but for the mainstream user the Gingerbread browser was a problem. In ICS the browser is a blessing to use. It's very fast, smooth and compatible. We've had no problems using the Honeycomb browser and the same can be thankfully said about the evolution of it in ICS.

Este tema ha sido editado por Uan_ar: 28 March 2012 - 16:17

No sé si conocen o leen seguido la página de Anandtech, en este caso nos trajo una muy buena review que quería compartir con ustedes. Es sobre ICS (comparándolo con Ginger) y el Google Nexus.